Podcast: Play in new window | Download
Subscribe: Android | RSS | More
"I wouldn't like it if I thought Google was making money off it."
Thanks for checking out another episode of Attack of the Androids, Mat Lee here with Eric Finkenbiner, Nick Carroll, and Seth Heringer bringing you the latest Android news of the week including Android 4.4 Kit Kat, possible Nexus 5 spotting, Hugo Barra leaving Google to work at Xiaomi, Eric still can't get a Nexus 7 LTE, new devices by Sony and Acer, this week's app picks and so much more. How much more? More than I could ever tell you about through this writing. So check out the show notes, watch the live rerun, hangout with us on the AotA Google+ community and we'll see you next Tuesday.
Check out this video and see the fabled new Nexus 5 in the "wild." So there you have it, Android 4.4 is the K, and it's Kit Kat, not Key Lime Pie. Does everyone feel better now? Here's the need to know links.
Here's the picture that started the Nexus 5 war. What do you think? Is that it? It either looks like the LG logo, or the FCC logo you see on the back of some phones. Who really knows? Only the guy in the picture, and probably the lady standing next to him.
Did you hear Hugo Barra is leaving Google to go work for Xiaomi? There is a whole ton of speculation around why, and I'm sure there's only three people that really know what actually happened, but it's fun to play gossip girl.
It's all the carriers fault, so Google has taken it upon itself to fix the fragmentation (choice) problem (feature) from the inside out. Let's hear it for Google Play Services!
The 8 gig Nexus 4 has sold out on the Google Play store, but as of the writing of this, you can still get the 16 gig version. The Verge has an article about it here. This is an amazing deal for an unlocked phone.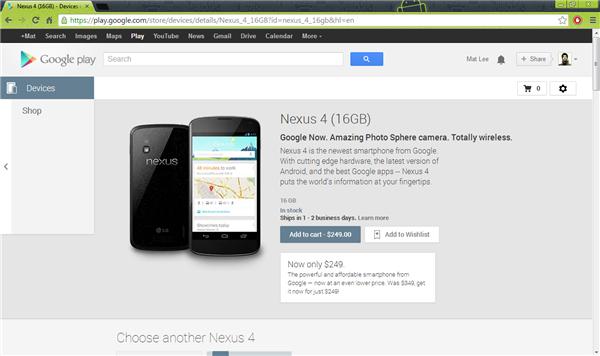 If you live in Germany or Italy, you can get yourself a Nexus 7 LTE and make Eric totally jealous. Check out the article on Android Authority.
The Sony Xperia Z1 specs have been leaked. It actually doesn't look all that bad. I'd be interested to see how it actually handles when you get it in your hands. Also, if you look at the camera on this, then look at the phone in the picture from the video that people think is the new LG Nexus 5. Do you see the similarities? Sony wouldn't be making a Nexus device would they?
Does anyone want a phone made by Acer? Sure, if they gave me one, but I don't think I would actively seek one out. The Acer Liquid S2 has a silly name, but it looks ok. It's a little on the large side.
Eric tells us about some OUYA drama. Read about it here on All Things D. Is there a perfect Android gaming system yet? I don't think so. Almost, but not yet. I would still buy the OUYA just because it's cheaply priced.
Have you ever heard of the Big Android BBQ? They have an event Thursday September 12th.
AotA app picks for episode 97
Seth – Lux Auto Brightness by Vito Cassisi
Eric – Nexus 4 Display Control by Francisco Franco
Mat – Asteroid Impacts by Giggly Mill
Check out Escape Goats and The Blame EP on Google Play. OR, you can get them free here on my music page, or on my SoundCloud. It's hip hop I made, I think you'll enjoy it. If you want to actually pay for the music, you can donate some cash or search for Mat Lee on Google Play. They are also available via Google Play Music All Access.
Thank you for listening and interacting with us. Stay up on the Android discussion during the week on our  AotA Google+ Community. You can also follow us on Facebook, Twitter and the AotA Google+ page to know when episodes are posted, and when the show goes live.
Write us a review when you subscribe on iTunes. You can also email show@attackoftheandroids.com, leave a message for the show at 406.204.4687 and catch the rerun of the latest live show on AotA TV! We also have a whole tech show playlist on YouTube that has re runs of YATS and AotA.
Check out the hangout video below. If you want to watch us live, check out AotA tv Tuesday nights.