Podcast: Play in new window | Download
Subscribe: Android | RSS | More
"Rap is huge right now with the kids, the Eminems, and the Kanyes."
Thanks for joining us on another episode of Attack of the Androids.  This week, Mat, Nick and I are joined by former Attack of the Androids regular Joey Kelley.  We have a great show in store for you so sit back and enjoy!  If you'd like to help us grow this wonderful podcast, go out and leave us a review on iTunes, follow us on Twitter, or comehang out with us in our Google+ community.  You can (and should) also join us LIVE every Tuesday in our official irc chat room, #aota on Freenode.
We start off this week with more Cyanogen Inc drama.  We talked last week about Cyanogen's CEO stating that he wanted to take Android back from Google.  Now, it has surfaced (Microsoft joke — get it?) that Microsoft will be a future investor in Cyanogen Inc.   Ready to be mercilessly teased?  The Nexus 5 is currently in stock on the Google Play store.  Or is it?  AndroidAndMe reported that Google put all flavors of the Nexus 5 up for sale again, but they're expected to go out of stock quickly.  Why can't Google seem to keep phones in stock on the Play Store?  We also wax a bit philosophical so you'll want to listen to this segment!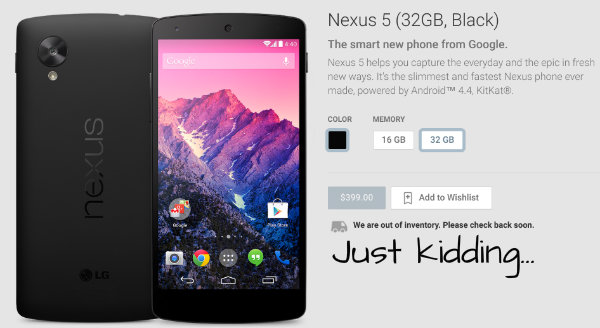 Motorola has released numbers showing that they sold over 10 million phones this past year, equating to huge gains over the past year.  While that doesn't mean that the Motorola Mobility segment is profitable, it does bode well for them.  Perhaps Google got rid of Moto too soon?   Speaking of too soon, HTC has brought back PM Dawn's Doc G for a music video about their smartphone lineup.  Its deliciously horrible.

Are you a filthy, dirty pirate?  Well, the developer of Today Calendar Pro has a new strategy for dealing with you and your ilk.  He admits that nowhere near everyone who pirated the app would have bought it, so he'll let them keep using it.  But there's a catch.  Randomly, things will become pirate themed.  Not a bad approach in my opinion.  Good news for Verizon customers!  Verizon is now showing the Nexus 6 as "Coming Soon", which means that folks may soon have an easier way of procuring Google's popular phablet.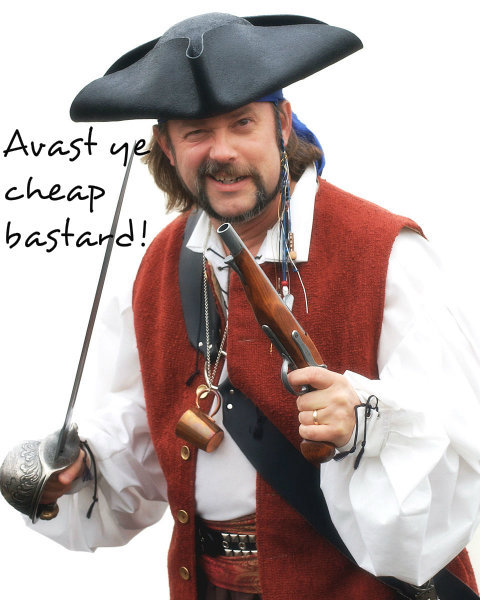 Images (meaning photos, meaning screenshots) of OnePlus' new flavor of Android, OxygenOS, have surfaced on the internet.  At this point, most of them are simply images of the various wallpapers but it does look pretty polished.  Micromax is taking India by storm and has risen to become the largest smartphone vendor for Q4.  We have some thoughts as to why that could be, but its very interesting to see that they have overcome Samsung.
LG is preparing for the future by trademarking the LG G3 through the G9.  While LG hasn't historically been the highest quality manufacturer, we've seen them step it up in the past few years with the G2, Nexus 4, and Nexus 5.  Do you envision that you'll be buying one of these "G" phones in the future?  The Android issue tracker seems to be overrun with spam.  Apparently that nice spam filter that they use in Gmail doesn't work on other parts of the site.  It's kind of sad that Google hasn't done anything about it yet.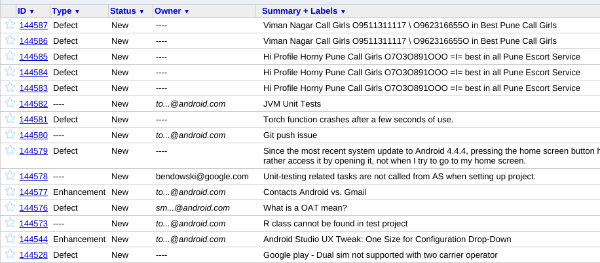 And now onto the most important news of the day.  Images of new Samsung Galaxy S6 cases and color options have "leaked".  The leak department over at the big S must be very busy because they're also showing off a curved variant of their Galaxy S6.  It looks somewhat similar to the Galaxy Edge phone.  Will you be picking up one of these or are you Galaxy-fatigued?

We're up to a lot throughout the week!  You can check out Mat's latest articles over at ANewDomain.Net and BreakingModern.com.  Nick is also creating content on his YouTube page.  For me, just follow me over on Twitter to see what I'm up to.
Thanks for hanging out with us this week!  You can stay up with the Android discussion during the week on our AotA Google+ Community. You can also follow us on Facebook, Twitter and the AotA Google+ page to know when the show goes live, and when new episodes are posted. Also make sure you subscribe to the Attack of the Androids YouTube channel.
Write us a review when you subscribe on iTunes. This helps us get seen by more people! You can also email show@attackoftheandroids.com, leave a message for the show at 406.204.4687 and catch the rerun of the latest live show on AotA TV! We also have a whole tech show playlist on YouTube that has re runs of YATS and AotA.