Podcast: Play in new window | Download
Subscribe: Android | RSS | More
"You have to do something stupid in order to get bit by this."
Welcome back to another geeky (but not too geeky) episode of our favorite weekly Android talk show, AotA. Mat Lee here with Eric Finkenbiner on laggy Skype as per usual, Shane Brady, Nick Carroll, and even Seth Heringer makes an appearance. Sit back and follow along with the notes here as we talk about the Android news of the week including but not limited to Android Kit Kat site code errors, Auto Awesome snow, Kit Kat updates, Obad, a couple of Oppo phones, Moto Maker wood, Dead Trigger 2 updates, this week's app picks, and so much more. Thanks for checking out the show, and please be sure to tell all of your Android using friends. Have a great holiday!
We finally found some Android Kit Kat candy bars. We were so excited to put in our codes and win our Nexus tablets on the Android Kit Kat site, but unfortunately, we encountered this error.
Because, Murrica…
Did you see the Auto Awesome snow effect? Shake your device running the Google+ app version 4.2.4 and it will add awesome snow. This works especially well with pictures that feature snow. Check out the unofficial Google blog for more info.
Let's talk about some Kit Kat update news real quick. Gotta Be Mobile has an article detailing what's going on with the latest Kit Kat updates. My Nexus 10 is on the latest 4.4.2 and a Verizon Moto X on 4.4. I have a feeling my Moto X won't ever see another update.
The Register has an article about Android Antivirus and why it's pretty much pointless. Ok, I'm paraphrasing, but have you ever used this junk? Let's get real here. Eric brings us the goods. People don't want Windows level AV on their phones.
Ready for an on air demo? Let's go caroling! Because you love Christmas songs that much, let's do some Christmas karaoke. I want to hear 500 Android devices jamming Deck the Halls, all at once. That would be epic. Cnet has a How To, just in case you didn't know how to.
Samsung puts it's hand into the gamepad game with an announcement for the aptly named, "Smartphone GamePad." This is pretty cool, but I feel like there are better options out there, and for probably a lot cheaper. The Next Web has an article about it here.
Have you heard of Obad? If not, then you're probably lucky. This is the winner of the 2013 nastiest piece of Android malware. Android Authority has an article about it here.
We have some Oppo N1 updates. You can order yours now from the Oppo store at Oppostyle.com. Gizmodo has an article about it here. This is the color OS version, not the Cyanogenmod one, so keep that in mind. It also does not currently support LTE. Eric got to play with one the other day.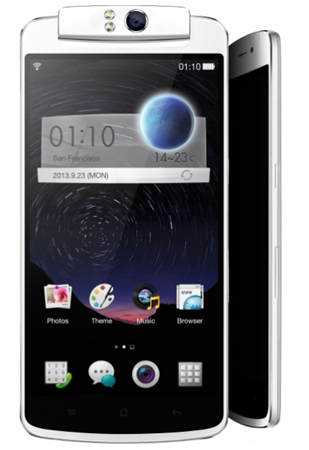 In other Oppo news, the Find 7 has been officially confirmed to have a 2560×1440 display. That's 515 PPI for those of you playing along at home. Android Headlines has an article about it here.
You can now get your wood on through the Moto Maker. Android Authority has the scoop here. Got Wood? Wanky wank.
If you want a Kindle Fire but can't afford it, don't fret. Amazon's got your back. Just make sure you don't bother reading the terms and conditions. At least you're saving the interest right? Engadget has an article about it here.
In some riveting who cares news, the hardware changes sometimes. People should realize that by now. But anyway, there's an article over on PocketNow if you want to read about it. The Nexus 5 has gotten a tiny bit smaller.
Dead Trigger 2 got a pretty huge update. They've added a bunch of stuff, check out the article on Droid Gamers for more info. In other gaming news, I'm still playing Shadowgun Deadzone, if you want to play, add Groovymat.
Ingress is also now out of closed beta, so if you have been wanting to play but haven't for some reason, get your game on. Check out Ingress here, or download it on the Play Store. Android Headlines has an article here about it. Dude, have you seen my founder badge? Lol.
Seth talks a little about his HTC One. Apparently he just now rooted it or something? I'm not sure, I wasn't paying attention. Seth has also been playing with Tasker lately. That is way cool. What's the coolest thing you've done with Tasker?
All of this Pebble talk makes me kind of want one. If you want to get me one for Christmas or whatever, you can send it to my PO Box.
AotA app picks for episode 108
Eric – Music Boss for Pebble by Reboot's Ramblings
Nick – System Monitor by Christian Göllner
Seth – Reading Trainer by HeKu IT
Shane – Wunderlist To-do & Task List by 6 Wunderkinder
Mat – Into the Dead by PIKPOK
Check out Escape Goats and The Blame EP on Google Play. You can also get them free here on my music page, or on my SoundCloud page. It's hip hop I made, if you like that sort of thing, I think you'll enjoy it. My albums are also available via Google Play Music All Access.
Stay up with the Android discussion during the week on our AotA Google+ Community. You can also follow us on Facebook, Twitter and the AotA Google+ page to know when episodes are posted, and when the show goes live. Also make sure you subscribe to the new Attack of the Androids YouTube channel.
Write us a review when you subscribe on iTunes. You can also email show@attackoftheandroids.com, leave a message for the show at 406.204.4687 and catch the rerun of the latest live show on AotA TV! We also have a whole tech show playlist on YouTube that has re runs of YATS and AotA.
Check out the hangout video below. If you want to watch us live, check out AotA tv Tuesday nights.