Podcast: Play in new window | Download
Subscribe: Android | RSS | More
"The best part of this article is the end."
Welcome back to another episode of our weekly Android hangout, AotA. Mat Lee here with Eric Finkenbiner and Nick Carroll discussing the latest Android news of the week including the passing of Wayne Green, a Moto X tablet, JBQ working for Yahoo, sold out Nexus 4's, the YotaPhone, more Nexus 5 leaks and rumors, Verizon busted by Jeff Jarvis, a petition by Obama to carriers, this week's app picks and so much more. Don't forget to hang out with us on our Google+ community and make sure to join us live for episode 100 this coming Tuesday evening. We'll see you then, here's some show notes.
Let's all pour out a little liquor in remembrance of Wayne Green. This is significant to us, because he was the founder of Byte. If you remember, all of us got together with Gina Smith back when she helped bring Byte.com back. So can I tell a joke real quick? What do Byte.com and Wayne Green have in common? They are both now resting in peace. Check out Gina's article about Wayne Green over on AND. There is also a great obituary here.
Are we entering the "So What" era of Android phones? JR Raphael makes a pretty good case for it on his Computerworld article.
Motorola CEO Dennis Woodside told Engadget that a Moto X tablet is something they are working on, but there's nothing specific to talk about right now. Will this rival the Nexus line of tablets in any way? Only time will tell. I like the idea of having more high quality tablets in the market to choose from. Cult of Android also has an article about it here.
JBQ or Jean-Baptiste Queru is now working at Yahoo as Architect and Senior Principal Engineer of mobile apps. If you recall we discussed this back in episode 94 of AotA when he had quit his position at Google as the Technical Lead for AOSP aka the Android Open Source Project. Is it weird that he's going to Yahoo now? Two down, thousands to go. Maybe now Yahoo will have some decent Android apps. GigaOm has an article about it here, and Android Police has one here.
Do you remember the YotaPhone? Of course you don't. I think this thing is kind of cool. It has two displays, one that's E-ink and one that's standard LCD. The YotaPhone will officially launch in November. Nice job Russia! Phandroid has an article about it here.
The Nexus 4 is now completely sold out in the Google Play Store. I sure hope someone saved one for me… You know, for when we finally get some real high speed carrier competition in my zone. Northwest Montana gets no love.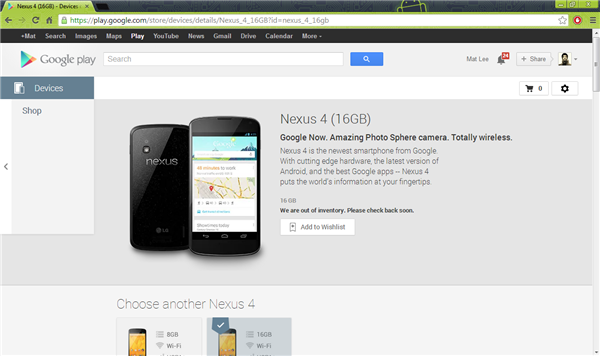 Android Authority has some possible Nexus 5 pictures, and some FCC filing goodness. Who loves the leaks? We love the leaks! Who loves the rumors? We sure do enjoy some rumors. Speaking of the Nexus 5 and leaks and rumors, what's the deal with bars and people leaving phones that aren't public yet, in said bars? I like Eric's idea of opening a bar that offers free cell phone charging. Here's one more rumor about the Nexus 5 camera. Will it be the same as the LG G2? Who knows. I should also mention that we here at AotA also love Android Authority, who covers Android like a BOSS! Come be on our show Phil!
In the scarey newsy of the week you shouldn't be afraid of, Android Headlines has an article explaining how and why Google has your wifi passwords, and why you shouldn't really care. Thank you for not indulging the masses in an article that scares them into clicking. You rock Android Headlines!
Jeff Jarvis wrote a great post on Google+ and a full article about this on Buzz Machine taking Verizon to task for not honoring FCC regulations that govern their use of the spectrum. They are in clear violation of this when Jeff Jarvis tried to activate his Nexus 7 LTE, and was told by a Verizon employee on Twitter that, "I'm excited you got your Nexus 7 but not all LTE tablets are created equal. It's not part of our line up & can't be activated."
Not created equal? You mean like how you created a completely sub par version of the Galaxy Nexus? Verizon has completely ruined the Nexus experience for me personally, but because they are the only carrier with high-speed mobile access where I live, I have to deal with them. I'll probably get a Moto X when I use my upgrade because I'm sure they will botch the Nexus 5 release just like they botched the Galaxy Nexus. That's even assuming they offer the Nexus 5. Anyway, I'm glad this happened to someone with some weight on the Internet, because now it's news, and now Verizon has to take responsibility for their actions. Nice job Jeff Jarvis! Droid Life has an article here about this, and the Verge has one here. We're all pulling for a lawsuit to take Verizon down a peg.
Obama is petitioning the FCC to require carriers to unlock phones. This is a small step in the right direction. I'm kind of curious about his motivation. If our devices are unlocked, does that make it easier to spy on us? Android Central has an article about it here.
AotA app picks for episode 99
Eric – Contra: Evolution by PunchBox Studios
Nick – Repulze by Pixelbite
Mat – Alien Breed by Team 17 Digital Limited
Check out Escape Goats and The Blame EP on Google Play. OR, you can get them free here on my music page, or on my SoundCloud. It's hip hop I made, I think you'll enjoy it. If you want to actually pay for the music, you can donate some cash or search for Mat Lee on Google Play. They are also available via Google Play Music All Access.
Thank you for listening and interacting with us. Stay up on the Android discussion during the week on our  AotA Google+ Community. You can also follow us on Facebook, Twitter and the AotA Google+ page to know when episodes are posted, and when the show goes live.
Write us a review when you subscribe on iTunes. You can also email show@attackoftheandroids.com, leave a message for the show at 406.204.4687 and catch the rerun of the latest live show on AotA TV! We also have a whole tech show playlist on YouTube that has re runs of YATS and AotA.
Check out the hangout video below. If you want to watch us live, check out AotA tv Tuesday nights.