Podcast: Play in new window | Download
Subscribe: Android | RSS | More
"Hey Verizon, 2009 called and they want their crappy Walmart tablet back."
Episode 104 of our weekly Android show, AotA. Mat Lee here with Eric Finkenbiner, Shane Brady, Nick Carroll and Seth Heringer talking about the latest Android news of the week including but not limited to: the Motorola Spotlight Player, Ingress out of closed beta, the Nexus 5, Android 4.4 Kit Kat, Verizon's anti competitive tablet with a stupid name, Rockstar patent trolls, The Oculus Rift for Android, this week's app picks, and so much more!
I also want to mention again that Google has decided to make each page have it's own channel on YouTube. Our new vanity URL for AotA on Google+ is Google.com/+AttackoftheAndroids. Please take a quick second and subscribe to the Attack of the Androids YouTube channel, that's where these videos will be posted at from now on, so please subscribe. Thanks for checking out the show!
Have you checked out the Motorola Spotlight Player? It's on my Moto X, and it's totally awesome. Android Central has an article about it here, and The Verge has an article about it here.
Ingress is a year old, and in December, will be out of closed beta. Check out the article here on CNet.
Let's talk about the Phone of the Moment, the Nexus 5. Shane has one, and he loves it. The Verge has an article saying the Nexus 5 isn't pure Android, it's pure Google. I'm not quite sure what that means, but then again, my last nexus phone was the Galaxy Nexus, and Verizon completely ruined that experience. I do love my Nexus 10 though. Shane has some side by side pictures on his Google+ page comparing the new iPhone to the Nexus 5.
CNet has an article about ten cool features of Android 4.4 Kit Kat. I'm still waiting for 4.3 on my Moto X. This is just one of the many reasons I completely dislike Verizon, but because of where I live, I don't really have another carrier choice.
If you want to learn more about Android 4.4 Kit Kat, check out this cool free Ebook on Google Play Books. Life Hacker has an article about it here.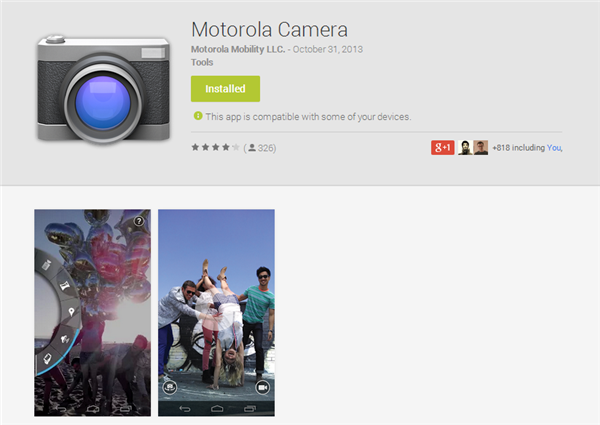 Motorola has apparently gotten sick and tired of waiting for Verizon to push out the camera update, so they pushed out the camera app into the Play Store. This is great, and the less dependent we are on the carriers for our phone software, the better off we'll all be. Check out an article about it here on The Verge.
I like how there is already an Android 4.4 Kit Kat rom for the Verizon Galaxy Nexus, yet my new Moto X is still on Android 4.2.2. Come on Verizon, step up your game. This is completely unacceptable. Phandroid has an article about it here with links to the rom download. Here is a link to the petition Eric was talking about in regards to Verizon Galaxy Nexus owners wanting updates. Is that too much to ask? I don't think so.
We might have found a very corrupt reason why Verizon won't activate the new Nexus 7. They are apparently coming out with their own seven inch tablet. Is this anti competitive? I think so, and they should be taken to task over it. It has terrible specs, and you should choose the Nexus 7, not the Ellipsis. What the hell kind of name is that for a tablet? Oh Verizon… Check out the article here on The Verge.
Who's ready for another installment of Patent Wars? This is completely ridiculous. The Rockstar Consortium is a joint venture owned by Apple, Microsoft, BlackBerry, Ericsson, and Sony, and they are apparently going thermonuclear on Google and Android. Can you say Patent Troll? Maybe instead of wasting money on lawyers and patent trolling, you should spend that money on research and development, and innovate. You haven't done anything innovative since Windows XP. Seriously… CNEt has an article about it here.
The Oculus Rift is getting ready for launch sometime in 2014. CEO Brendan Iribe says, "We will be delivering a single Oculus Rift which is able to tether to a variety of laptop/desktop operating systems and now we're looking to also support tethering to a mobile device." Engadget has an article about it here.
AotA app picks for episode 104
Eric – Themer Beta by MYCOLORSCREEN
Shane – Trigger by Egomotion Corp
Nick – Thor: The Dark World by Gameloft
Mat – AllTrails Hiking & Biking by AllTrails, Inc
Check out Escape Goats and The Blame EP on Google Play. You can also get them free here on my music page, or on my SoundCloud page. It's hip hop I made, if you like that sort of thing, I think you'll enjoy it. My albums are also available via Google Play Music All Access.
Thank you for listening and interacting with us. Stay up on the Android discussion during the week on our  AotA Google+ Community. You can also follow us on Facebook, Twitter and the AotA Google+ page to know when episodes are posted, and when the show goes live. Also make sure you subscribe to the new Attack of the Androids YouTube channel.
Write us a review when you subscribe on iTunes. You can also email show@attackoftheandroids.com, leave a message for the show at 406.204.4687 and catch the rerun of the latest live show on AotA TV! We also have a whole tech show playlist on YouTube that has re runs of YATS and AotA.
Check out the hangout video below. If you want to watch us live, check out AotA tv Tuesday nights.